Does your child need speech?
Below are some useful links to help guide you.
Your Baby's Speech and Language Milestones from Birth to 30 Months:
http://www.children.gov.on.ca/htdocs/english/earlychildhood/speechlanguage/brochure_speech.aspx
Infant and Child Development Program:
http://www.csbd.on.ca/services/infant-child-development-program/
Is your child on the waitlist? Here are some helpful tools...
EARLY LANGUAGE WAITLIST WORKSHOP
click here: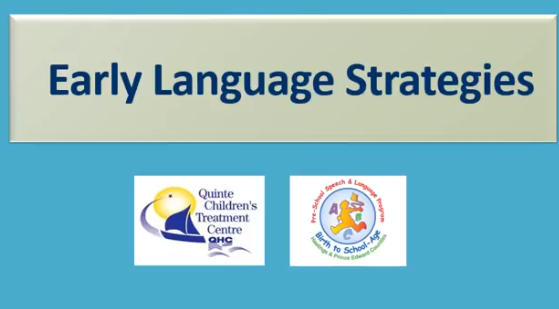 PRIVATE SPEECH SERVICES
Private speech may be an option with a cost for service. Your extended insurances through your work benefits may cover some private speech therapy, check with your employer.
Private Speech-Language Pathologist:
Search this website, following the prompts to see a list of SLP's in our area.
http://publicregister.caslpo.com/
The Hanen Centre: Helping You Help Children Communicate
Tips for Parents:
http://www.hanen.org/Helpful-Info/Parent-Tips.aspx
The Hanen Centre - Videos:
https://www.youtube.com/channel/UCHW4HIU64kO3Ec_4Sovgcvw/videos

Other helpful resources...
Family Space:
https://www.familyspace.ca/
The Hub Child & Family Centre (Prince Edward County):
Ontario Autism Program (OAP):
http://www.children.gov.on.ca/htdocs/english/specialneeds/autism/ontario-autism-program.aspx
Audiology Clinic - Hotel Dieu Hospital:
https://www.hoteldieu.com/programs-and-departments/audiology-clinic
Augmentative Alternative Communication Services - Kids Inclusive
http://kidsinclusive.ca/services-and-programs/augmentative-communications-services/